Grapevine Party Invitations – best looking invitations right there on your phone!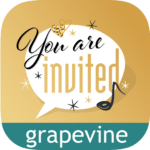 MAKE NICE INVITATIONS WITH STYLISH IMAGES AND YOUR OWN TEXT
SEND TO GUESTS DIRECTLY BY SMS
GUESTS ANSWER DIRECTLY ON THE PHONE
YOU CAN EASILY KEEP TRACK OF WHO ANSWERED AND WHO IS COMING
In our invitation app, you can not only easily make nice invitations; you can also send them via text message and keep tabs on your event. All guests receive a nice invitation via sms and answer directly if they can come or not. In the app you will see which ones have answered and which ones are coming!
In the app you can upload your own picture to your invitation or choose from our huge photo archive with images to suit all, from the 50th birthday or a baby shower to children's parties with different themes and Christmas party, barbecue, and halloween party!
The app and to use it is of course completely free!
Your guests easily do everything in an sms – they don't have to download the app – unless they want to, of course!
Download the app here: