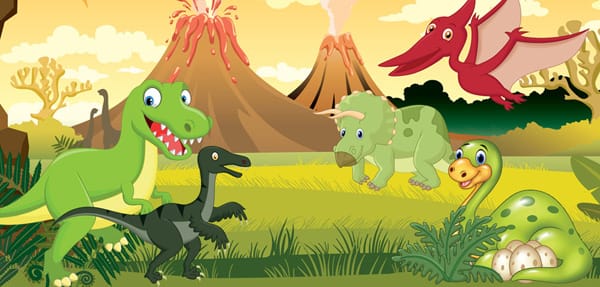 The Dinosaur Mystery, age 7-10
€16.99
A perfect treasure hunt for kids who love dinosaurs! The children have to help Maya Maiasaura to find her eggs that has been hidden by the naughty Polly the Pterodactyl before they hatch!
Description
Treasure Hunt: The Dinosaur Mystery, age 7-10
Does your child like dinosaurs? Then you should organise a treasure hunt in Dinosaur Valley for a birthday party or a fun activity at your next event. The mischievous Polly the Pterodactyl has hidden Maya Maiasauras' six eggs – and the kids need to help get the eggs back before they hatch!
Everything you need is included with the product. The treasure hunt is delivered by email right after payment and is ready to be printed out. Then it only takes half an hour to organise an exciting treasure hunt with clues, puzzles and challenges for your little dinosaur-lovers! It can be played practically anywhere, inside, outside or a bit of both. All of our treasure hunts are specially designed and can only be purchased from us.
In this treasure hunt, the children are whisked back to prehistoric times and sent on an adventure to Dinosaur Valley where they meet all kinds of interesting characters: the fun-loving Peg the Parasaurolophus, the forgetful Steve Stegosaurus, Polly and her uncle Terry the Pterodactyl, Cecil the Ceratops and many more – they even have to keep out of the way of a T-Rex approaching! The kids need to solve various puzzles and challenges to help Maiasaura mother Maya find her eggs before they hatch!
The game can be played at any home, inside or outside. You can also adjust the duration of the game by including or excluding challenges and it works for any number of children. If you're a large group, you can divide into teams. The approximate length of the game is 40-60 minutes depending on how many you are and where the game takes you.
The Dinosaur Mystery comes in two levels of difficulty, one suitable for children approximately 4-6 years of age and another for kids approximately 7-10 years of age. Here you'll find the Dinosaur Mystery for ages 4-6>>
Invite the kids for an exciting adventure in the world of the dinosaurs! An easy-to-use word file invitation for a Dinosaur party is included!